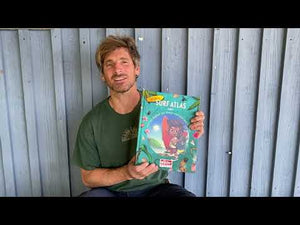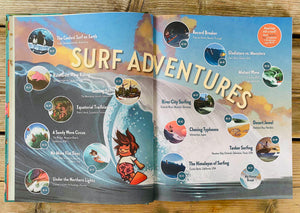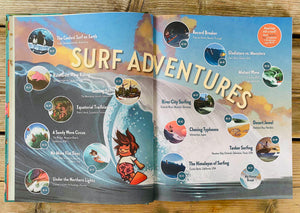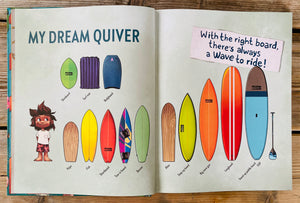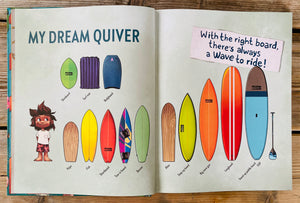 Hubi's Surf Atlas - part 1
Prefer to order on Amazon. Click here to order

Winner of the Royal Dragonfly Book Award 2022 
Surfing, science, geography & story for lovers of the outdoors and oceans

Hubi's Surf Atlas takes you on a global surf odyssey to 15 amazing destinations. Readers join Hubi to dive into surf facts, local culture, oceanography, wildlife, and science.

Ignite curiosity! 200+ fun facts, maps and infographics. How do tidal bores make it possible to surf rivers? How do surfers prepare for the planet's biggest waves? What is a seamount? Can a frog weigh as much as a surfboard?
Immerse yourself in stories, reports, and spot guides from every corner of the globe. Shiver with Hubi beneath the Northern Lights in Norway; sail to cold and windy Antarctica with good friends; and surf through the Amazon rainforest.
Hubi's Surf Atlas is a sturdy 96-page hardcover book designed for use and built to last. Read to and develop basic STEM concepts among early readers, exploration for chapter book capable readers, and independent reading for middle-grade readers. Multiple layers entertain all ages.
This beautifully illustrated atlas makes learning fun and can be appreciated by any adventuring spirit.
Recommend age group: from 6 to 99
Dimension:  25 x 32 cm (9,8 x 12,6 inch)

Weight: 1 kg (2.2 lb)
Format: Hardback
Paper thickness: 115 lb ( 170 GSM)
Number of pages: 96 pages
Language: English
ISBN: 978-87-94043-00-7
Printed in: EU 

Paper in this book is certified by the Forest Stewardship Council. FSC promotes environmentally appropriate, socially beneficial, and economically viable management of the world's forests.