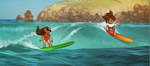 Is your child hooked on water and ready to shred? Are you keen to get them started? Here are a few tips to get your little one on a healthy path to surfing bliss: 
1. Stay stoked
Smile, you're at the beach! Enjoy your grom's trials and errors in the ocean. And keep smiling, even when things go sideways. Your positive vibes won't just nourish their self-confidence, they'll share an important lesson: "The best surfer out there is the one having the most fun!"  
2. Chill out
Surfing can be frustrating, so be patient. Tube riding and airs are mastered in decades not days. Is the tide too low or high? Go tide-pooling or play in the shore pound with junior. There's a lot to learn and a lifetime to learn it all!  
3. Surf in a small crew
A little crew of family or friends can make learning less intimidating and more fun for all. Team up with another parent or group of friends so there's smiley support and communication, both in the water and on land. 
4. Stay warm, safe and rash free
Warm kids are happy kids. A slightly thicker than recommended wetsuit is great for keeping your little one cozy and buoyant. Use a rash guard to prevent chafing around the neck and arms. Booties will keep their toes toasty and feet safe. A slim flotation vest for the youngest adds to everyone's level of confidence. Heading into the water with them? Wear bodysurf/bodyboard fins to catch up with your wee wave warrior when needed. 
5. Start small, real small
Surf fundamentals – like how to physically handle a board, "pop up", where to stand, how to hop off, etc. – should all be learned in low-stress, low-consequence environments. Plus, the thrill of being pushed by wave energy and gliding across the water can be experienced on the tiniest of waves! Seek out the smallest, longest waves breaking over sand and use them. Unnecessary scares leave unnecessary scars.
6. Choose the right board… and swim fins
Bodysurfing and bodyboarding with fins are the easiest, most accessible and best ways to develop ocean intuition and get a feel for riding waves. Add a soft top surfboard to the mix and your grom will be fully equipped. While "more foam is more fun", a large stable board that catches waves easily is also harder for little bodies to maneuver. So, start with bodysurf/board fins, a bodyboard and 7-9-foot-long soft top "foamie", depending on your child's height. Add to the quiver as their interest and ability grows.
Always bring a good book (click on image) :